Status Report - 28 August 2018
Posted on August 28th, 2018 12:29 PM EST
In today's Status Report our leads reflect on our appearance at Gamescom last week, where we had the chance to meet so many of you guys. Of course, the big spotlight is on tomorrow's release on the Xbox Game Preview program. For our PC players our Senior Producer Julien gave a first look at DayZ modding this week. Let's get started!
Dev Update/Eugen
Dev Update/Peter
Dev Update/Martin
Dev Update/Julien
Community Spotlight
Dev Update/Eugen
Gamescom is behind us and while it has been pretty physically exhausting, it is great to see all the positive feedback from players who visited us. DayZ was playable on 
all three platforms, PC, Xbox and PS4
, and we've had these stations full almost nonstop. All stations were running the same build of DayZ on Enfusion. It's amazing to see how far we have come in this regard.
https://www.youtube.com/watch?v=W3mliPS0mrk
We've had a 
bunch of interesting interviews
 (check out Baty's part for a sample of those!), answering some tough questions a lot of you guys have had for a while, so I recommend watching these as it is hard to capture the detail in text. And I think we have done a good job communicating our vision, or the given situation in these cases. I hope you find the interviews enjoyable.
The 
Xbox release is happening tomorrow
, and Martin will provide some additional details on that. I'll just mention that the Xbox One release shows Enfusion Engine as the future of Bohemia, as a base for what DayZ is right now and the possibility to bring our unique titles to all platforms. It''s a big milestone for us and for Bohemia as a whole. There were always concerns about performance, controls and UI, but I think there is a way to do it right and we will learn what is best together with the Xbox community itself in the Game Preview program.
On the topic of the 
PC Experimental release
, we have made some huge progress over the last week with the issues plaguing the Stress Test 
servers
 and are 
planning to increase the numbers available
. We are also discussing the switch over to Experimental after last of the issues is fixed.
The Internal build and its development have seen a steady amount of features and content come in. And as of now, we are mostly
 focusing on base building and vehicles
. The rest of the features are being reviewed and setting the priority on bugfixes for BETA is in progress. We are well underway to stabilize DayZ as a whole and I'm excited to see it 
get in good shape in the coming months
.
It has been a long time coming, but we can see the light at the end of the tunnel. Both in terms of features, getting 0.63 to you guys, the release of server files, and modding. All things are in motion and we are very happy to invite new players into the game as well as welcome the old ones back. The growth of our community both on PC and Xbox feels almost imminent and I can't be more excited about things to come!
- Eugen Harton / Lead Producer
Dev Update/Peter
Gamescom 2018, same as in the previous year, was an amazing experience. It's been great to meet fans and community members there in person. For me, it's really refreshing to talk with you about the past, present and future of DayZ. I'm very happy to see that you are so eager and love DayZ so much. It's motivational, which leads to a great psychic upbeat and spikes of positive energy.
Last but not least, I want to welcome all the Xbox One survivors into the world of DayZ. I'm excited that the next huge group of players will be able to enjoy such a unique experience which hardly can be witnessed anywhere else.
Be careful out there, it can be harsh... see you in Chernarus folks!
- Peter Nespešný / Lead Designer
Dev Update/Martin
Hello Survivors! The past two weeks have been among the busiest this year, and that's because we've all been handling three major things at once: the PC content update, Gamescom, and the Xbox Game Preview announcement! As Eugen covered the PC part, I'll go ahead and give you a little bit of a behind the scenes from our Gamescom preparations, and update you on the state of the Xbox version of DayZ!
DayZ at Gamescom
Besides our own Gamescom booth, we've 
expanded our presence at Gamescom a little bit more
 this year. Thanks to our friends at Xbox, we've been invited to the Inside Xbox show to announce the release date of DayZ on Xbox one - and we've made a nice little teaser trailer to go along with that! A first one since the initial Early Access release! 
https://www.youtube.com/watch?v=er4nVkCYBq0
We've only had 
a very short time for the production of the teaser
 (about 2 weeks of time, which is absolutely bonkers), and I'd like to recognize the work of Bohemia Interactive's 
Multimedia department
 that managed to set us up with a nice video in what was a truly killer deadline! It was very much a team effort, but my hat is off to Vladimir Jaske for the great editing work, Ivo Struzinsky for game capture and the work on our camera tools, and Jan Dusek for quickly editing together a really nice sounding DayZ track (the one at the very end) with our external composer Nick Fox. I can only say the teaser got people properly excited, and I can't wait to start the production on a new video for the 1.0 release!
As we've set the tradition with Gamescom last year, along with our developers, we always bring a very decent amount of free merch to our booth. It's something that we do
 very differently compared to most of the gaming booths
, as we make sure that visiting us is actually a rewarding experience that allows you to meet with the developers you know from online channels, and sets you up with cool swag on top of that. Gamescom is a very exhausting undertaking for the team, but this personal aspect makes it worth the hassle!
DayZ on Xbox: known issues and release details
With the release date for the Xbox Game Preview announced, the teams back home started preparing themselves for August 29! The first step was letting all of the 5000 people with keys into the Closed Preview of DayZ. I'll admit, 
we've originally planned to do that sooner
, and everyone freaked out quite a bit when our
 servers behaved in all the wrong ways
 at the beginning of the last week, but thanks to the massive effort done by our dev team, we've managed to get the situation resolved and get people to play. Looking at the feedback we're getting, there is
 a set of most common issues
 we have with DayZ on Xbox right now:
Crashes of the game upon loading
The inventory behaving in all sorts of weird ways (items not getting picked up, players being unable to fill in all inventory slots etc.)
General issues when interacting with items in your hands slot (especially fireplaces, guns/magazines)
Status icons invisible on some screens due to wrong UI scaling / cropping near the borders of the screen
Hits sometimes not being registered when firing a weapon
I want to thank everyone for reporting the issues - be it over the Feedback Tracker, social media, or private conversations. We are aware of most of the annoying issues, and while our priority is now set on applying 
last minute fixes for server stability and client crashes
, we'll look into the remaining critical issues right after the Game Preview release on August 29!
As our Inside Xbox announcement was really only focused on the release date, many questions were raised on our social media. Here's the answers to some of the most common ones:
How much will DayZ cost on Xbox One? 
DayZ will be using a standard premium game model (so no free to play, or any in-game monetisation) during the Xbox Game preview, and it will be available for 39,99 USD. You can check your local price when the product page becomes available on the Microsoft Store. The price of DayZ will increase with the release out of Game Preview - the final version of DayZ will be available for 49,99 USD across all platforms.
At what time exactly will you release DayZ on 29th?
DayZ will unlock at 7PM CEST on August 29. You can use 
this tool
[www.timeanddate.com]
 to check your local time for the release.
Is there going to be a trial version available? 
Yes! You will be able to enjoy one hour of free playtime that you can use if you're not sure about the purchase yet. The trial version will run on its own servers, and will not have character persistence (meaning that your character progress will not save during your first hour, and will not transfer into the full Game Preview!
How many servers will be available for the launch?
As many as needed! We have a good, scale-able setup that will always run enough servers for everyone to join, there will not be a fixed number of servers available. We'll also have teams monitoring the server status 24/7 in the first days after the release to make sure everything goes smoothly!
Do you expect people to provide feedback?
Yes! We want to get all the feedback - you can use our 
Feedback Tracker
[feedback.bistudio.com]
, the 
official forums
[forums.dayz.com]
, or even our social media channels like 
Twitter
, 
Facebook
, or 
Discord
[discord.gg]
!
Can players start their own private servers on Xbox?
Not right now, but we definitely want to have that option in DayZ later on.
Are there cars and helicopters on Xbox?
No, not right now, but before leaving Game Preview, we'd like to have both on Xbox One. Especially cars play an important role in the DayZ gameplay!
That's all for now - starting with the Game Preview release, I'd like to kick off Status Reports that focus on DayZ on Xbox, so look forward to those! It's crazy that the Xbox release is in less than 24 hours from now - so many new Survivors coming to DayZ!
We'll see you all in Chernarus!
- Martin Čulák / Lead Designer
Dev Update/Julien
For those of you who missed our 
first look at DayZ modding
[www.dayz.com]
, let me briefly introduce myself: 
I'm Julien, Senior Producer at Bohemia Interactive, taking care of the modding component of DayZ.
Summary of announced DayZ modding plans so far
As said in the blog post linked above, with the DayZ BETA closing in, we're starting to share some information around modding.
At the moment, 
it
 is projected to be a PC exclusive feature, integrated via the Steam Workshop
. It
 will work in a pretty similar way to how it does with Arma 3. 
I
n last week's announcement we already mentioned, that DayZ is a hybrid between the RV and the Enfusion engines. While the packing and the asset creation are mostly unchanged and will go through the same process as for Arma 3, the rest (script, particles, animations, UI etc.) will be handled via the Workbench, which is a powerful all-in-one tool developed to handle everything Enfusion related.
We invite the most curious 
among
 you to read the 
full announcement
[www.dayz.com]
 or join the 
discussion
[forums.dayz.com]
 - we have already received some interesting questions
,
which I answered.
[forums.dayz.com]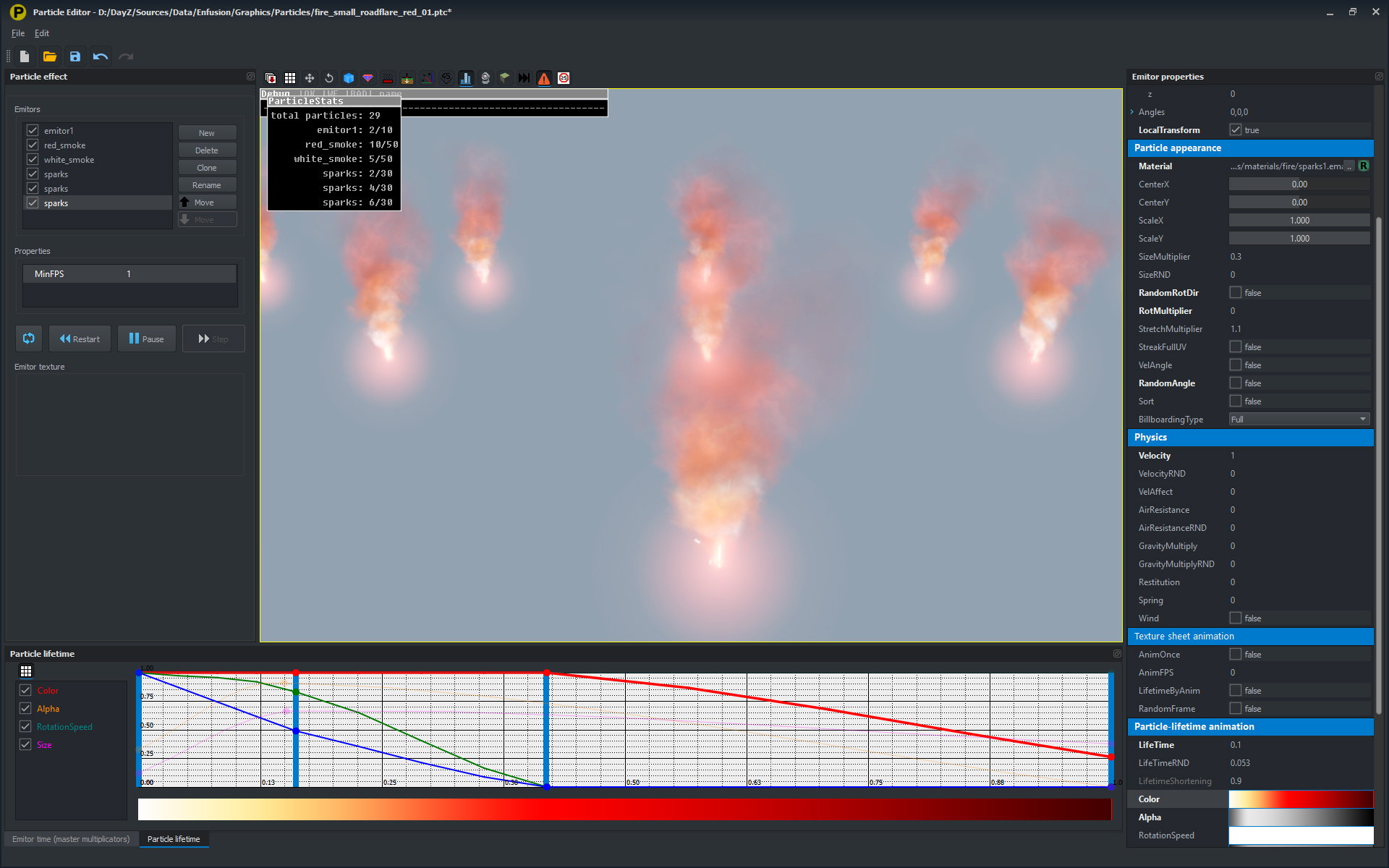 How to talk about your existing DayZ modding experiments
We know that some of you have already started digging through the data available in 0.63, and the first DayZ mods are already being made. We'd 
like
to make all modders aware that if you want to start experimenting and share your progress on your creations, you should feel free to do so
 - and the modding section of our 
official forums
[forums.dayz.com]
is
 a great place to do that! We are eager to discover what you've been up to these past weeks! 
However, please, do keep in mind that DayZ is still in active development, which means anything can change any time; e.g. scripted classes, some 3D models or textures (
and anything else
) might be heavily altered or simply disappear in between updates, 
impacting your mods.
 Also
,
 we would like to ask you to 
not release any of your modifications publicly
 before 
the official start of modding.
General timeline for DayZ modding
As for when modding will be available: we aim for a partial release together with BETA. However, this is not set in stone. 
While the initial release of the tools is still unclear, server owners will be happy to know that the server files package should be made available to everyone during
 BETA
on PC at the latest.
That's all for now - I'll keep you up to date 
on our forums
[forums.dayz.com]
!- Julien Vida / Senior Producer
Community Spotlight
Hello guys,
we are back from Gamescom and it really was crazy. Our booth was massive this year, we had there 10 computers, 10 Xboxes and 5 PlayStations with DayZ, and our booth was full most of the time. 
https://www.youtube.com/watch?v=k_uMDtX2k0Y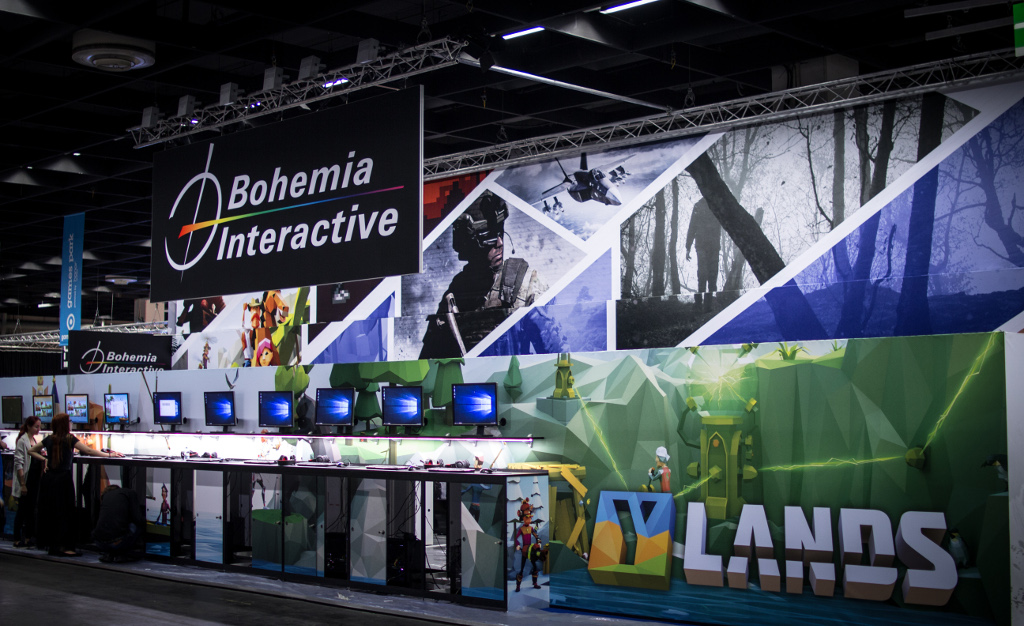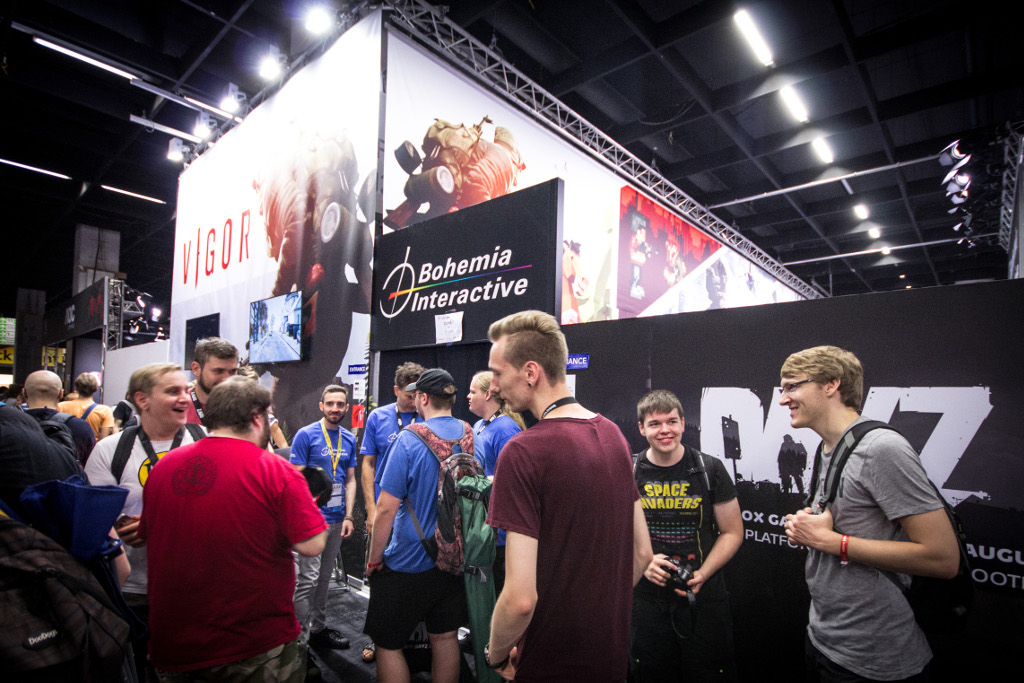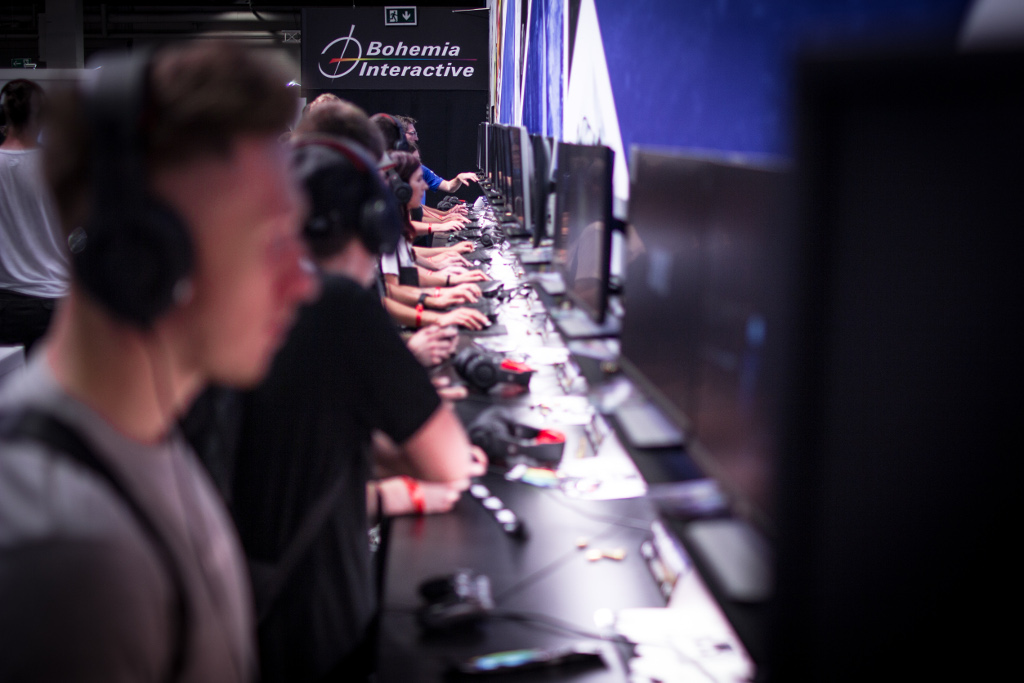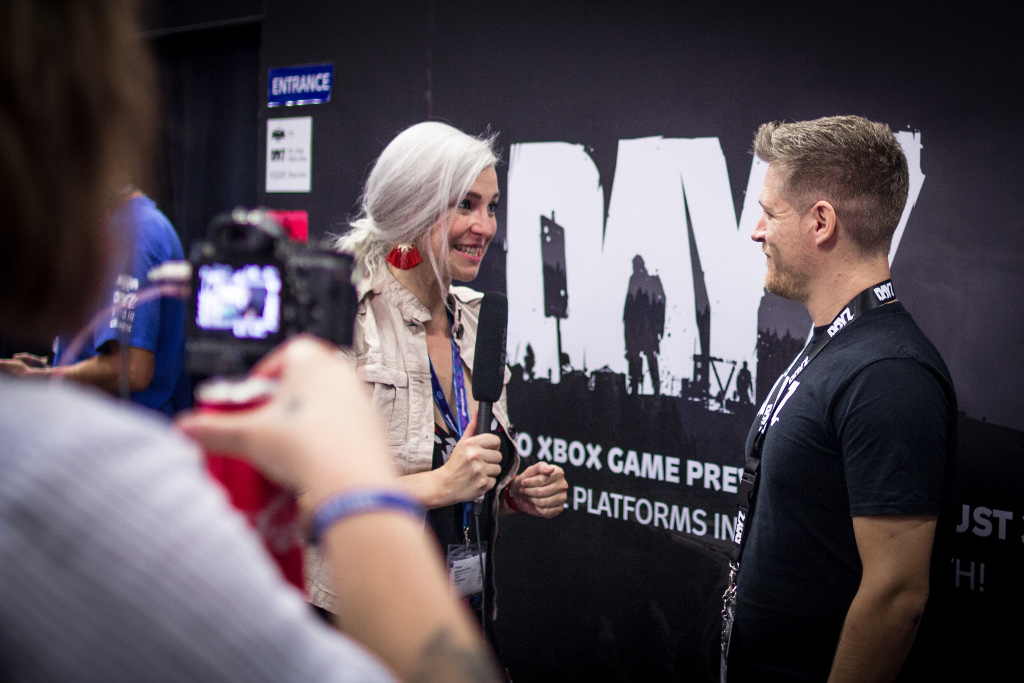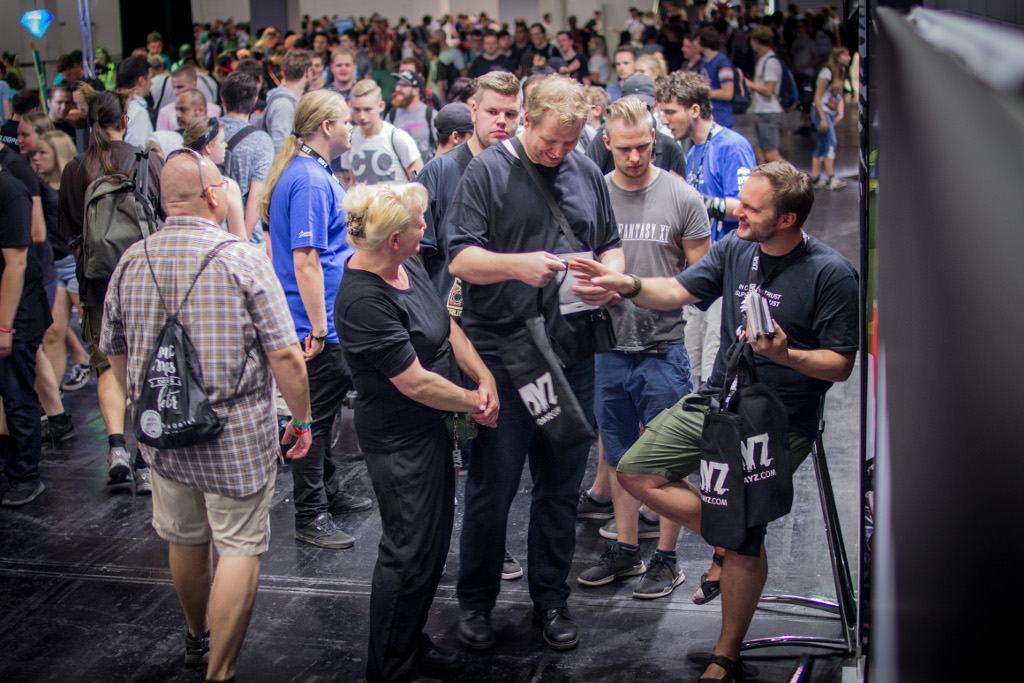 You were such nice guys and you liked the game. It means the world to us.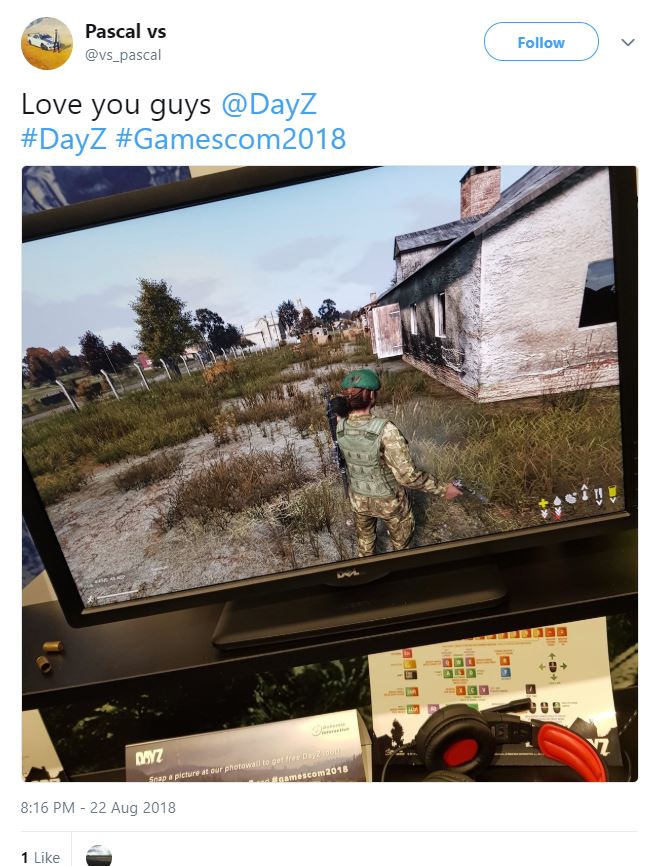 We organized a community meet up on Friday and I am so sorry I couldn't be there. There we so many of you, it is really nice how many of you wanted to meet us. Thank you for stopping by!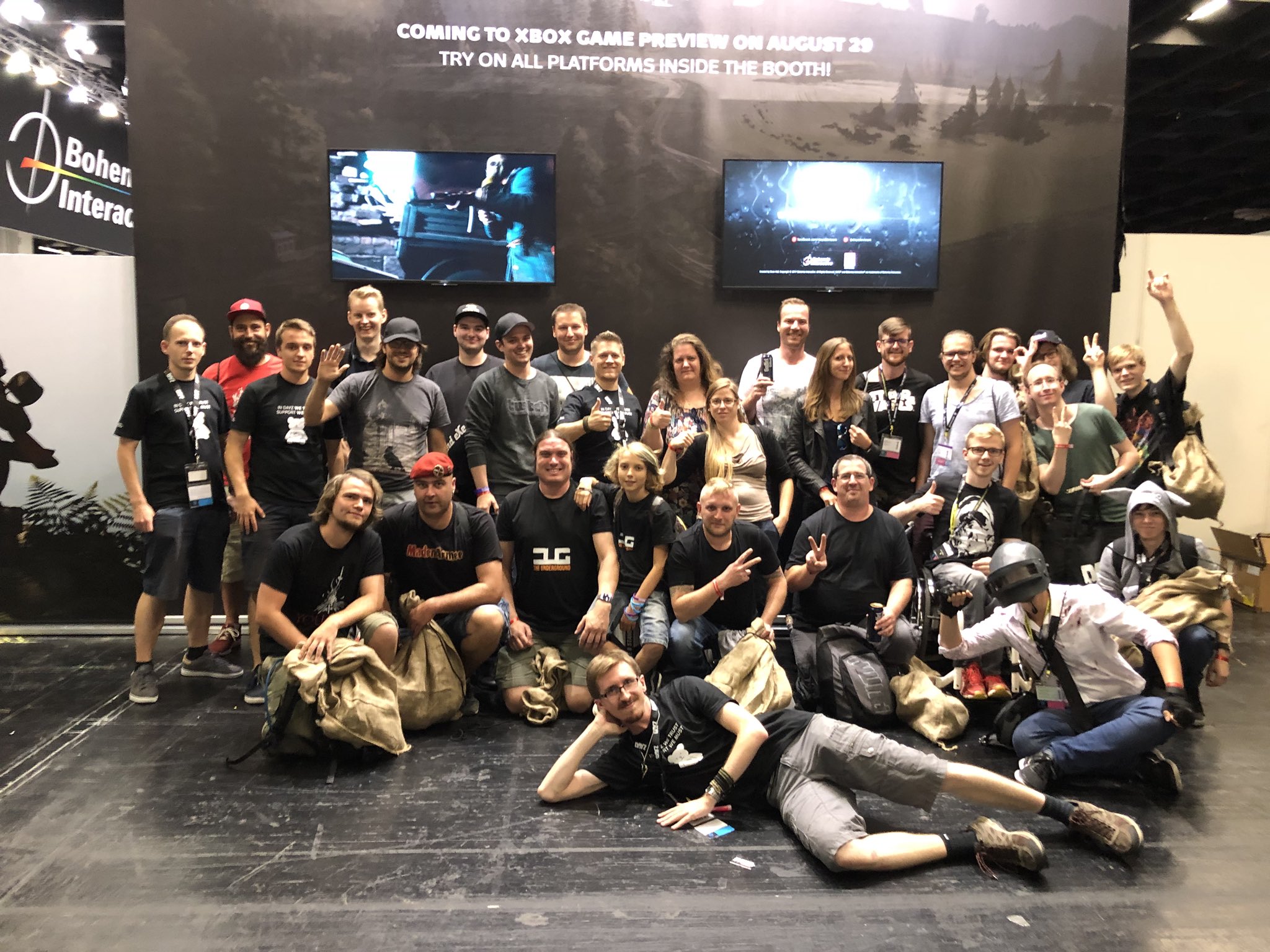 Our photo wall was a huge success. Just try to search #Gamescom2018 and #DayZ on Twitter or Instagram, you can find there so many survivors who took a photo with some gear: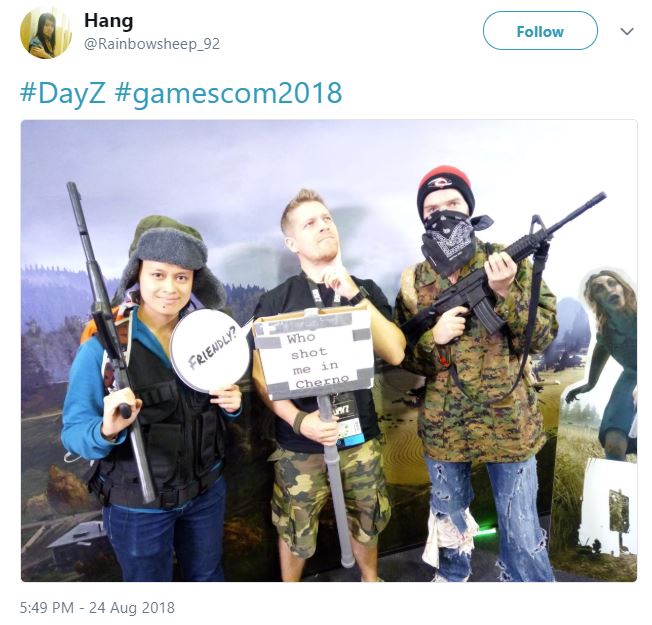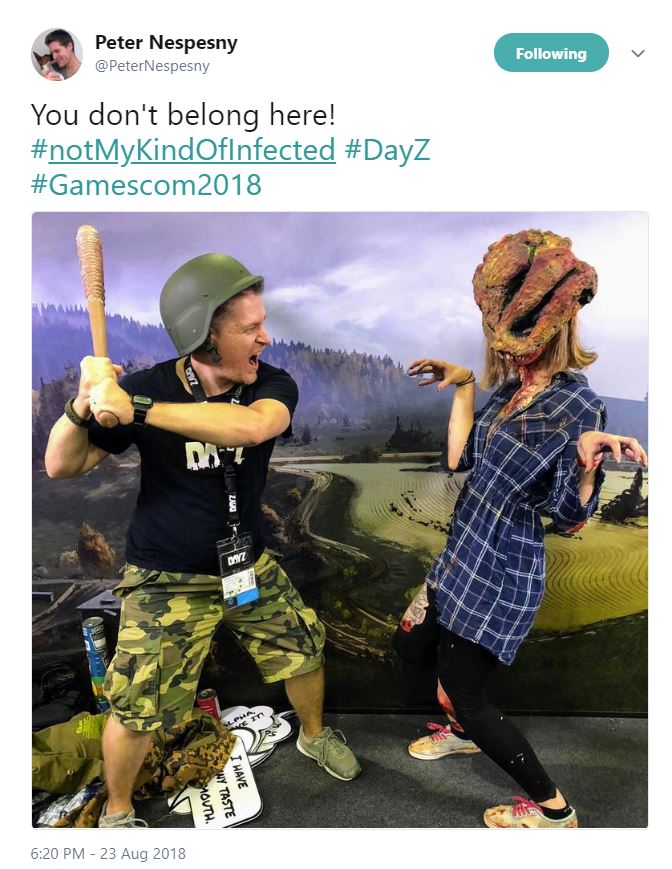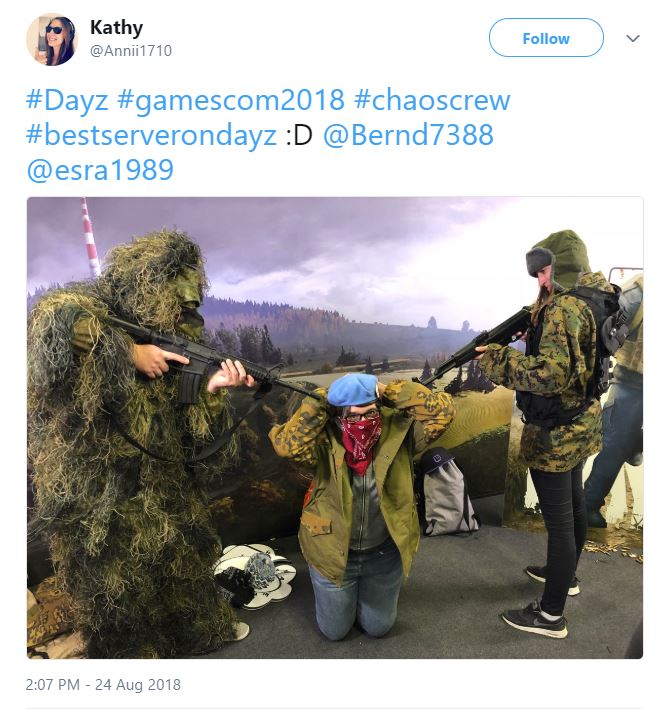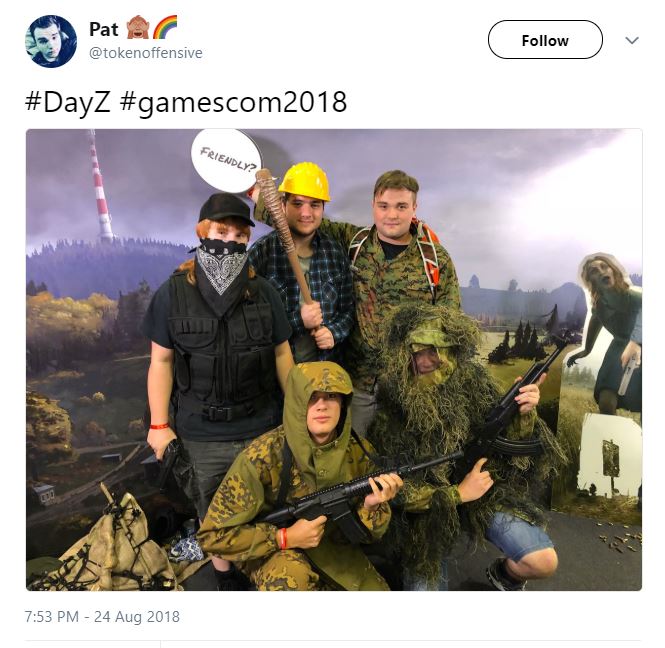 And I have three videos for you today:
Our favourite content creator Rene aka BarelyInfectedvisited us at our booth to ask Peter Nespešný and Eugen Harton some questions about DayZ development and the future. And here are their answers
https://www.youtube.com/watch?v=8h7runsT14w
https://www.youtube.com/watch?v=o-gvu3Yw3fI
And something different right now. This is a story of a group called River Boys, full of adventure, friendship and fun until the server restart separated them.
https://www.youtube.com/watch?v=__xEFndQXCY
That is all from me, thank you again for stopping by at our booth and see you in two weeks!
- Baty / Community Manager
Header image by 
ExacoMvm
.
Click here for the source of this article
RSS Feed
Share This Article